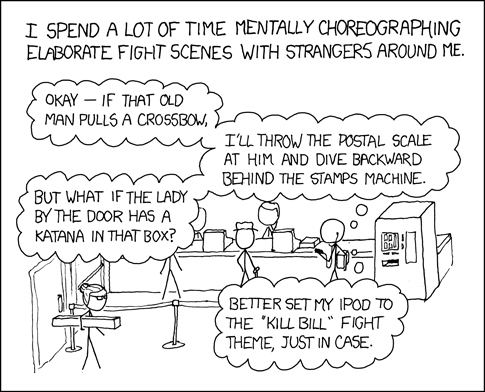 I'm wiping down the bar when you come in.
The door swings open, and I look up to say that we're closing, I already did last call, but stop when I see it's you. And I smile.

You're wearing a faded shirt, and those dark jeans I love so much. Boots that are not weather appropriate. Your hair is a perfectly tousled mess, but you're already running your fingers through it again.
"Hey," You look around at the empty place, and stay by the door. "Are you closed?"

I shake my head.
"Not quite yet. You want something?"
You nod, and try not to look too awkward as you sit where I point, a seat at the end where I can be close to you.

"What does not quite yet mean?" You don't open the menu I put in front of you.
"It means, I'm shutting down, but can't lock the doors for another fifteen minutes. So, it's last call, basically." I smile, you don't.
"I'm not-"
"Shut up and pick a drink." I keep working, cleaning, running mats and tools through the washer, and try to ignore your eyes on me, remind myself how to breathe, keep my heart rate down.
You ask for the beer I already know you'll want, and grab one out of the fridge, and pour a whisky for myself. I tilt my glass to you, and you tap your bottle against it.
You keep looking around, not sure what to do with your hands. You tell me, "I didn't think it would be this quiet already,"
I shrug, and don't say anything. I'm waiting for you to speak, to tell my why you're here. But instead, you just keep drinking. So I turn around and keep working.

"You always close this early?" You ask. I shake my head. I lean against the shelves, looking at you, picking up my glass again.
"I don't want to keep you."
"You're not keeping me." I take a drink, needing something to do. I'm afraid, afraid you're going to leave, afraid you'll decide it's too awkward, that you need the break of other people around, other things to be distracted by.
"I'm glad."
You say it as my face is turned, and I don't hide my smile. Five minutes to go, and I'm counting the cash in the drawer. I move around to the front, decline your offer to help, and bring the sign in, turn off the outside light, and lock the door.
And now we don't know what to do.
Because we need to talk. We really do. But neither of us want to. Neither of us know how to. There is so much there that we don't have answers to. So instead, you ask me how much more I have to do before I can leave. I tell you, not much, and finish what I need to finish. You're nursing your beer by the time I've finished and clocked out, but I need another whisky. Badly. Need something in my hands if you're here, looking like you do. You smell like smoke and something else I've never quite been able to place.
I sit down in the seat beside you, and the corner of your lip tilts up in a smile.
"Do you usually have after hours drinks with customers?"

I shake my head.
"Emma," You don't know where to start, I don't know where to start. But you're here, and I want you to be here. And that's enough.





But this is my problem.
I don't know what happens next.
I think of you and how you'll look and what you might say, but I don't know from here. 
Because in my mind, this is where it ends. It's you being there when I need you to be there. To show me that you care. 

But this is not our story.
This is not you. Or anything you would do.
And I know this.

But when it's late, and hot, and I'm about to lock the door
I wonder what it would be like if you were there, hoping to be let in.